Tool Making
To enable us to consistently deliver projects to our customers, on time and on budget, it is vital that we have control of each element of the manufacture process.
At Indenco we have our own in-house tool making capability. Having control over this aspect of the project allows us to meet tight production deadlines, reducing the time between initial enquiry and project fulfilment.
Our tool making services
Although Indenco primarily make tooling for use on in-house manufacturing projects, such as presswork components and prototype work, we are also able to produce tooling directly to our customers.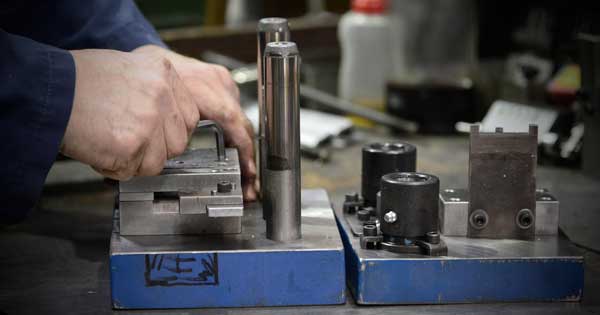 Using the same high standards and quality control we employ for our in-house tool making we can produce tools from steel, aluminium and tooling block.
By producing optimised tooling we regularly save our clients both time and money by either making the process more efficient or quicker.
Tool making client partnership
Before we produce any tooling we make sure we have a full understanding of what is required for the end project. We work in partnership with our clients, drawing on our many years of experience, we are often able to offer advice and practical suggestions on how to improve a tool design.
The highest standards
Once a tool design has been finalised, our professional tool making department bring the design to life. Using the highest standards and production techniques, our team produce a high quality custom part, both to an extremely high standard and that also meets all specified criteria.
Rigorous quality control
After the tool has been produced, it is put through a series of quality control checks ensuring that it will work perfectly in operational conditions. By making sure the tool is of high quality, accurately made and reliable, allows us to confidently meet all production schedules – whether that is high quantities or fast turn-arounds.
For further information about any of our services, or if you would like us to provide you with a quote, please contact us on 01386 443946, or enquiries@indenco.co.uk

British engineering at its best