Press Work
With the use of a press tool and stamping dies, metal presswork is a process that involves producing a shape from a metal sheet, coil or extrusion. By manipulating the metal to the shape of the die, precision components can be produced in large quantities very cost-effectively.
Precise and accurate
Indenco are an extremely experienced presswork company, able to produce precise and accurate components to your exacting requirements. We also offer complimentary services such as drilling and cutting.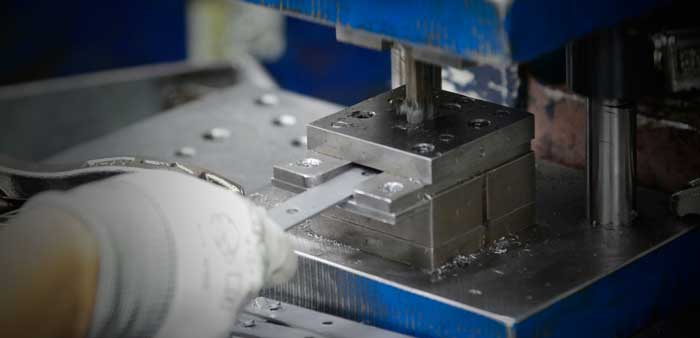 Special finishes
We are also able to supply components in a number of special finishes, including zinc and nickel plating, zinc plating, copper plating, powder coating and painting.
We work with a variety of materials including; mild & alloy steels, copper alloys, stainless steel, brass, aluminium and various plastics, a number of which we always keep in-stock.
Full range of equipment
Our extensive range of equipment enables us to provide a solution to the most challenging of projects and includes:
● 80 Tonne machine capacity
● 18 Power presses of 6-30 tonne capacity
● 8 Power presses of 30-75 tonne capacity
● 3 Fully automatic Elumatec cleat saws
● 10 Drilling & tapping machines
Flexible and bespoke service
We are able to offer a flexible and bespoke service suited to many different industry sectors using a variety of ferrous and non-ferrous metals, such as mild steel, aluminium and stainless steel.
For further information about any of our services, or if you would like us to provide you with a quote, please contact us on 01386 443946, or enquiries@indenco.co.uk

British engineering at its best